ESwatini Snakebite Symposium 2021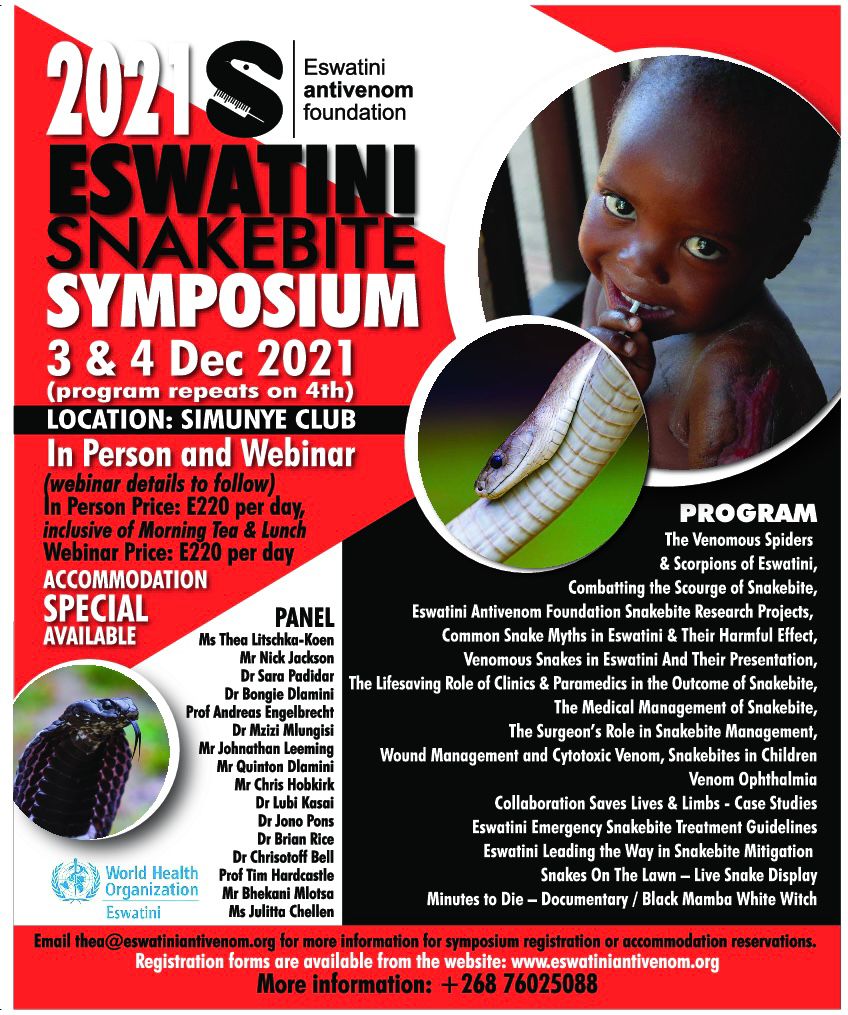 2021 Symposium Program
The final 2021 Eswatini Snakebite Symposium program is now out! Download it here.
Register for the Eswatini Snakebite Symposium 2021
There are 3 ways to register! Please make sure you select the correct method when registering.
In Person, Online Registrations – Register online to attend the symposium and events in person. Note that in person registrations are limited to 100 registrations for each day.
Webinar, Online Registrations – Register online to view the live symposium webinar via Zoom. Watch the symposium from where ever you are in the world. Webinar attendance is FREE!
In Person, Manual Registrations – Register manually to attend the symposium events in person. Download the registration form and send the completed form as per the instructions.
For registration queries and questions please email Thea@eswatiniantivenom.org
The symposium will be hosted by Simunye Country Club & Lodge, Lusoti Village, Simunye, Eswatini, on the 3 rd December 2021 and repeated on the 4 th December 2021. Please note that the conference room can only accommodate 100 guests; therefore, registrations will be accepted on a first-come-first-serve basis. There will also be an opportunity to attend the symposium via webinar. The registration and login details will be communicated shortly.
The Registration fee is E220.00 per person and includes teas, refreshments & lunch. Although preregistration is preferred, on-site registrations are welcome from 07:00. The symposium will start at 08:15 on both days and will finish at approximately 17:00.